THIS APRIL 25TH 10AM - 5.30PM
The Road Safety Authority has introduced 'Check it Fits' in response to a frightening statistic which shows as many as 4 out of 5 child car seats are incorrectly fitted. Incorrect fitting can result in serious injury or a fatality in the event of a collision.
WHAT IS THE RSA 'CHECK IT FITS' SERVICE?
The RSA ' Check it Fits' Service is a full-time, nationwide, free, expert service which aims to put parents', grandparents' and guardians' minds at ease that their child's car seat is safely and securely fitted in their car.
WHY ATTEND?
A survey of 5,000 checks, which were recorded at the RSA's ' Check it Fits' Service, showed that over 4,000 of the child car seats checked needed some type of adjustment . Worryingly, most of those seats required a major adjustment . One hundred and fifty of the seats checked were condemned – they were not fit for purpose , meaning they could have caused injury or even death if there was a collision.
The Check it Fits service is quick, easy and free of charge . Experts will advise on how to fix any problem. They will demonstrate how to fit the restraints correctly and answer any questions you might have .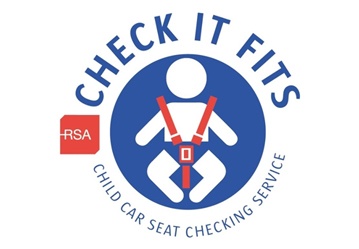 WHERE AND WHEN?
Tadg Riordan Motors, Frederick Street, Ashbourne, Co. Meath.
Thursday April 25th 2019 10.00am - 5.30pm
It's completely free and there's no need to book in advance , simply arrive on the day no matter what make or model of car you drive.
We look forward to seeing you on Thursday April 25th 2019.
Toyota. Built for a Better World.